Updating Results
You can compare up to 5 vehicle trims at a time. To add this trim to compare please uncheck one or more of the trims below, then click OK.
You are here:
Cars
>
AOL Autos Car Finder
Compare 2012 Buick with 3rd Row Seating
Great shopping list.

Be sure to click each model to view more research or compare several trims to find the best matches.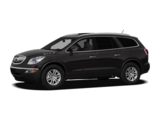 View all 8 matching trims
Engine:

3.6L V-6

20 MPG: 17 City, 24 Hwy
Seating Capacity:

7

Tow Rating:

4500 pounds

3rd Row Seat:

60-40 Split-Bench

MSRP:

$36,500
These new 2012 Buick have 3rd row seating available. Compare their price, mpg, reviews, warranty and safety ratings and more to find the right one for you.
© 2014 AOL Inc. All Rights Reserved.
x